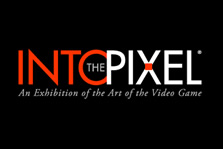 Colección Into the Pixel 2017
Para visualizar en mejor resolución cada trabajo artístico dar clic sobre cualquier imagen de la galería.
La FUNDACIÓN ESA y AIAS presentan formalmente la Colección Into The Pixel 2017
La Entertainment Software Association (ESA) y la Academia de Artes y Ciencias Interactivas (AIAS) anunciaron hoy las selecciones oficiales para la colección 2017 Into the Pixel (ITP, #IntoThePixel). Establecido en 2004, la exhibición de arte anual de ITP honra a los artistas del videojuego que continúan promoviendo las distintas disciplinas de arte dentro de la industria. Coproducido por la ESA y AIAS, la colección ITP de 2017 se presentará durante la E3, la feria comercial más importante del mundo para juegos de computadora, video consolas y móviles, del 13 al 15 de junio de 2017, en el Centro de Convenciones de Los Ángeles.
Este año las 14 piezas serán subastadas en eBay durante la semana E3. Los ingresos de la subasta recaudarán fondos para que la ESA y las fundaciones AIAS para que estas a su vez apoyen a los futuros fabricantes de videojuegos. La subasta dura 5 días y comienza el martes, 13 de junio al mediodía PST, concluyendo el sábado 17 de junio al mediodía PST. Todas las pujas de ITP se pueden hacer en la página de eBay de AIAS desde este link.
Jane Ng
Lead Artist
Jueza Into The Pixel 2017
Nora Dolan
Independent Curator
Jueza Into The Pixel 2017
Patricia Lanza
Director of Talent and Content
Jueza Into The Pixel 2017
Matt Hall
Senior Concept Artist
Juez Into The Pixel 2017
Bob Rafei
Founder, CEO & Visual Director
Juez Into The Pixel 2017
Glenn Phillips
Curator and Head of Modern & Contemporary Collections
Juez Into The Pixel 2017
Seth Spaulding
Art Manager
Juez Into The Pixel 2017

Comments
comments