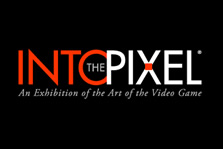 Colección Into the Pixel 2016
Para visualizar en mejor resolución cada trabajo artístico dar clic sobre cualquier imagen de la galería.
La asociación de Entretenimiento de Software (ESA) y la Academia de Artes y Ciencias (AIAS) ha anunciado oficialmente la colección Into The Pixel 2016(ITP, #IntoThePixel). Esta exhibición fue establecida en el año 2004, en ella se honra a los artistas que con su trabajo y talento continúan impulsando el arte de entretenimiento interactivo. El evento es coproducido por la ESA y la AIAS y la exhibición es mostrada durante todos los días que dura el E3 que es el evento mundial de mayor prestigio de la industria de los videojuegos. El E3 se realizará en el Centro de Convenciones de Los Angeles los días 14, 15 y 16 de 2016.
La colección Into the Pixel 2016 presenta una gran variedad de géneros, que van desde juegos tales como Dreadnought, Dishonored 2, No Man's Sky, League of Legends, The Witcher 3: Wild Hunt, Far Cry Primal, y muchos otros más.
Este es el panel de jueces para el año 2016:
Kiki Wolfkill
Studio Head, Halo Transmedia & Entertainment
Jueza Into The Pixel 2016
Nora Dolan
Independent Curator
Jueza Into The Pixel 2016
Patricia Lanza
Director of Talent and Content
Jueza Into The Pixel 2016
Matt Hall
Senior Concept Artist
Juez Into The Pixel 2016
Bob Rafei
Founder, CEO & Visual Director
Juez Into The Pixel 2016
Glenn Phillips
Principal Project Specialist and Consulting Curator
Juez Into The Pixel 2016
Seth Spaulding
Art Manager
Juez Into The Pixel 2016